Advanced Open Water Diver
Advanced Open Water Diver
Move up a level and learn about different aspects of diving.
---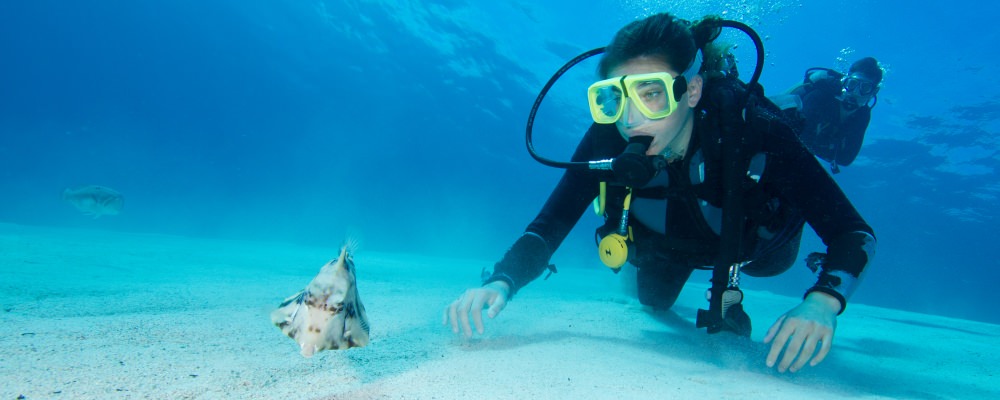 Overview
This Advanced Open Water Diver course is made up of 5 dives, called Adventure Dives. They advance your diving knowledge and open the door to different aspects of diving. Each dive is the first one in a PADI Speciality course.
What happens?
The Advanced Open Water Diver course normally only lasts 2 days. There are 2 compulsory dives and 3 elective dives. There is, of course, a manual. You only need to read the chapters on the areas you are interested in, but feel free to read it all and learn more than is necessary to finish the course.
Adventure Diver
It is possible to do only 3 Adventure Dives and take an Adventure Diver qualification. This is not the same as the Advanced Open Water Diver, which requires you complete 5 dives and the knowledge reviews (bookwork) that go with each dive.
Dive Options
You must do a Deep dive and an Underwater Navigation dive. The other 3 can be chosen from: Altitude, AWARE - Fish Identification, Boat, Diver Propulsion Vehicle, Drift, Dry Suit, Night, Peak Performance Buoyancy, Search & Recovery, Underwater Naturalist, Underwater Photography, Underwater Videography, Wreck
PADI eLearning
Complete the Theory through PADI E-Learning and spend more time diving on your holiday! You will be able to complete all 5 sessions at your leisure whether in the evenings or even during your lunch break! Once you have completed the course online you will get an E-Learning completion form that you will need to bring with you to complete your course. This means more time diving and less time studying so you can really enjoy your holiday! The fee you pay to PADI for this service includes the cost of the manual and the certification.
---
Typical Day
---
By the end of the Advanced Open Water Diver course you will be qualified to dive to 30m with a buddy, in conditions similar to those you learnt in. You may need further training if diving in different conditions. The next step is to do the PADI Rescue Diver course.
10 and 11 year olds may qualify for Adventure Diver, but not Advanced Open Water Diver. There are some of the dive options that are not open to them. 12-14 year olds may earn a Junior Advanced Open Water certification that qualifies them to dive to 21m.