Open Water Diver
Open Water Diver
Get your PADI certification and enter a new world with the Open Water Diver course.
---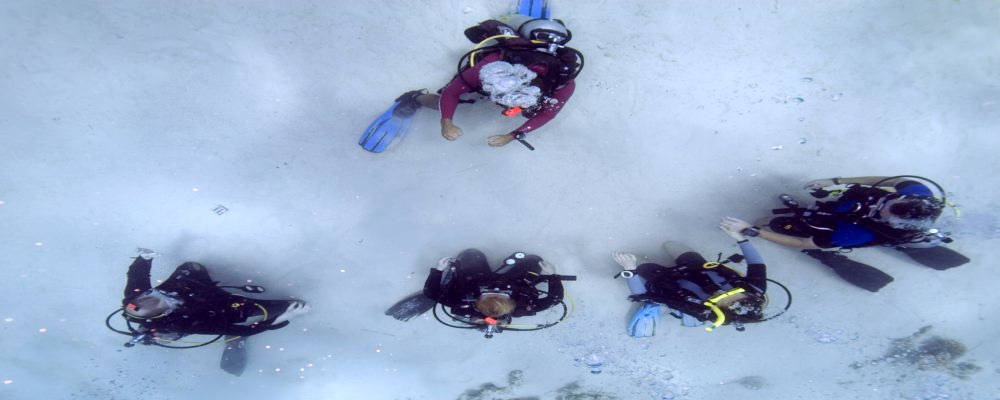 Overview
The PADI Open Water Diver course is regarded as the worlds leading entry level diving qualification, and with us we guarantee you a high quality education, as well as fun in the process. You must be able to swim to start the course.
What happens?
The Open Water Diver course takes 4 to 5 days and allows you to practice skills in shallow water before doing your final 4 open water dives and really getting to grips with the underwater world. You can use the PADI Open Water Diver qualification anywhere in the world and be sure you have the knowledge to dive safely and happily with your dive buddy when diving in similar conditions to those you trained in. There is a small amount of time needed for classroom work and there are some options on the Open Water Diver course to ensure it fits in with your holiday.
Referral
If you have already started the Open Water Diver course, elsewhere, you can still finish it with us. We would reduce the price depending on how much you have done. If you start with us and have to stop we can give you a form to show what you have completed and you can either return within 12 months or continue elsewhere. If you come to us having already started the course then you will already have a manual.
Manuals
We now have digital copies of the manual. We can loan you a physical paper copy and supply a digital copy for you to keep and refer to. This helps to save paper and shipping which is good for the environment. It also means less for you to carry home.
FastTrack Option
Our Fast Track Open Water Diver Course can be done in 3 days. You will need to buy the PADI Open Water Diver Manual at your local PADI shop or online and read all 5 chapters as well as complete the 5 Knowledge Reviews before arriving at Poseidon for your course. Please bring your manual and your completed Knowledge Reviews with you and we will get you certified in 3 days! As you will already have a manual you will not need to purchase one from us.
PADI eLearning
Complete the Open Water Diver theory through PADI E-Learning and spend more time diving on your holiday! The Open Water Diver Course has 5 theory sessions including 5 videos, 4 quizzes and one final exam. You will be able to complete all 5 sessions at your leisure whether in the evenings or even during your lunch break! Once you have completed the course online you will get an E-Learning completion form that you will need to bring with you to complete your course. This means more time diving and less time studying so you can really enjoy your holiday! The fee you pay to PADI for this service includes the cost of the manual and the certification.
We recommend the Touch version, which when run on Apple and Android touch devices allows study offline as the content is downloaded. The only time you need to go online is to download the app and to do the quizzes and exam. The Touch version on Microsoft Windows works with the mouse and needs to be online for all the time you are studying, just the same as for E-Learning.
---
Typical Day
---
By the end of the course you will be qualified to scuba dive to 18m with a buddy, in conditions similar to those you learnt in. You may need further training if diving in different conditions. The next step is to do the PADI Advanced Open Water Diver course.
Those under 15 years of age that are doing the course earn a Junior Open Water Diver rating. The minimum age is 10 years old. Once certified, 10 and 11 year olds must dive with a parent, guardian or PADI professional and are limited to 12m. 12-14 year olds must dive with an adult certified scuba diver and can go to a maximum depth of 18m.
8 year olds and upwards may take a Bubblemaker course. This is a chance to play around in a pool with the scuba equipment.