Divemaster course
Divemaster
Become a dive leader.
---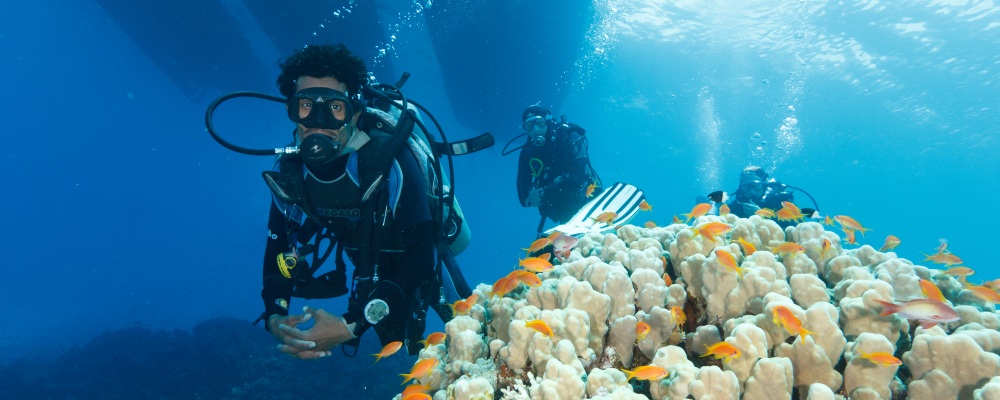 Overview
The PADI Divemaster course is your first level of professional training. You must be a Rescue Diver and also have a First Aid & CPR qualification. Working closely with a PADI Instructor, you'll fine-tune your scuba diving skills, like perfecting the effortless hover, and refine your rescue skills so you anticipate and easily solve common problems. You'll gain dive knowledge, management and supervision abilities so you become a role model to scuba divers everywhere.
What happens?
During the Divemaster course you will learn more about dive theory along with perfecting your dive skills and have fun doing it! You will have one of our very experienced staff members mentoring you as well as the opportunity to learn from other instructors. You will get to assist on real courses including PADI Open Water Diver, Advanced Open Water Diver, Rescue Diver and maybe even some PADI specialties. You will learn detailed aspects of scuba diving and even get to guide customers at Dahabs finest divesites. Throughout your Divemaster course you will have the opportunity to visit all the marvelous dive sites in Dahab, not just be stuck on the house reef. We will teach you all aspects of the dive industry and we want you to leave prepared to work as a dive professional. If you are looking for lots of diving experience and to learn all aspects then you will find the PADI Divemaster course offers all you want.
Internship
The standard time for the Internship option is 4 weeks. You will be assisting our instructors on PADI courses and guided diving as well as fine tuning your dive skills and theory. You will need a minimum of 40 dives to begin this course (or 20 if you will go straight into the IDC with us). You have the opportunity of working first-hand with students and working on the dives alongside experienced professional Instructors in a busy centre catering for many different nationalities and diving in many different dive environments. You will also have the opportunity for hands-on experience with compressor operations, dive centre logistics, and to learn the day-to-day running of a busy dive centre in the Red Sea. Along with plenty of dive experience you will also have tons of fun!
FastTrack Option
Although the Divemaster course requirements are the same, the Intensive course is ideal for someone on a tighter schedule. This course can be done in as little as 12 days with a minimum of 50 dives. You must obtain and have studied the PADI materials before starting your course with Poseidon. Elearning is an option.
PADI eLearning
Complete the Theory through PADI E-Learning and spend more time diving on your holiday! You will be able to complete all of the sessions at your leisure whether in the evenings or even during your lunch break! Once you have completed the course online you will get an E-Learning completion form that you will need to bring with you to complete your course. This means more time diving and less time studying so you can really enjoy your holiday! The fee you pay to PADI for this service includes the cost of the manual.
Manual
You will need an eRDPml and Divemaster crewpack. Inside the Divemaster crewpack are:
The Instructor manual, Divemaster manual, slates, your application sticker, the encyclopaedia of recreational diving and a PADI bag.
---
Typical Day
---
By the end of the course you will be a PADI member, qualified to lead dives and assist instructors as a teaching assistant. You will have exceptional dive skills and a wide range of knowledge about dive theory. The next step is to become an Instructor.
* There is no certification cost, but rather a PADI membership fee that is renewed annually - currently 92 Euros + VAT.
| Course | Duration |
| --- | --- |
| Divemaster | 12 - 31 days |